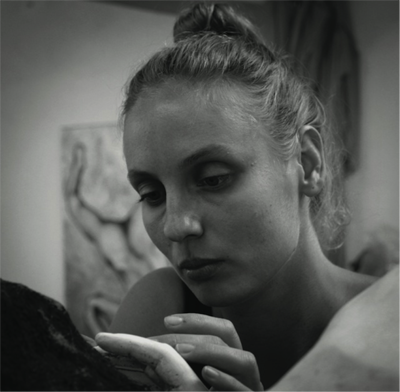 Artist in residence from January – April 2014
Alexandra Leyre Mein was born in 1979 in Belgium. She lives and works in Brussels and Hopewell NJ.
Mein graduated from the Royal Academy of Fine Arts in Antwerp.
She completed residencies at the School of Visual Arts in New York and in Brussels at Alain Servais.
Alexandra draws her inspiration from neoclassical and romantic sculptures, and African tribal art as well as from mythologies and popular beliefs. In her work – through sculptures, paintings and drawings – she shows the struggle for survival and life's raw force momentarily conquering death. In her sculptures she creates awkward, 'unheimlich', hybrid forms by using the essential parts of human or animal bodies and the transformation, contradiction, movement and tension emerging from their encounter. She sculpts directly in plaster, which results in a spontaneous consensus between the initial idea and the way the material sets, defying gravity. These almost abstract figures, reach out to the viewers on an unconscious level before their intellect takes over. Her work in which crossbred and chimerical creatures are facing their inner struggles; duels in which the enemy is one's self. In this violent encounter the fragmented body alternatively metamorphoses and decays, transforming new life form into strange and forlorn beauty.
Her work has been shown in Euope and the US including at the SVA Westside Gallery NYC, Palais d'Iléna, Paris, la Maison Particulière, Brussels, Botanique, Brussels, New House Center for Contemporary Art NY, Anton Kern NYC and Art Brussels. Her work has been collected in Europe and in the US, including Belfius Bank,  the collection of Mme. and Mr. Sabet d'Acre and the Servais family.
For more information on Alexandra's work, please visit her website.
Selected Works: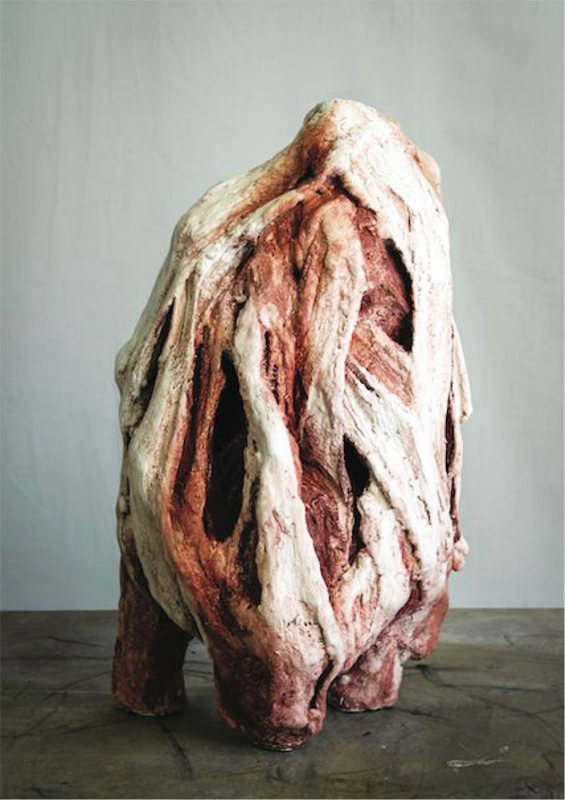 Muscle Cluster
Hydrocal, mesh wire, burlap, pigments and varnish
58 x 35 x 25 cm
2013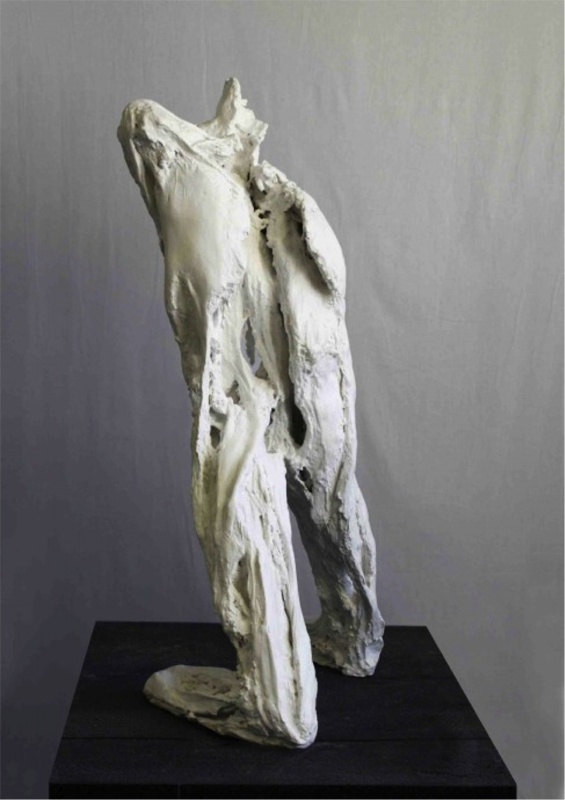 Memory I
Hydrocal, metal, burlap, cheesecloth, paint, varnish
106 x 54 x 64 cm
2013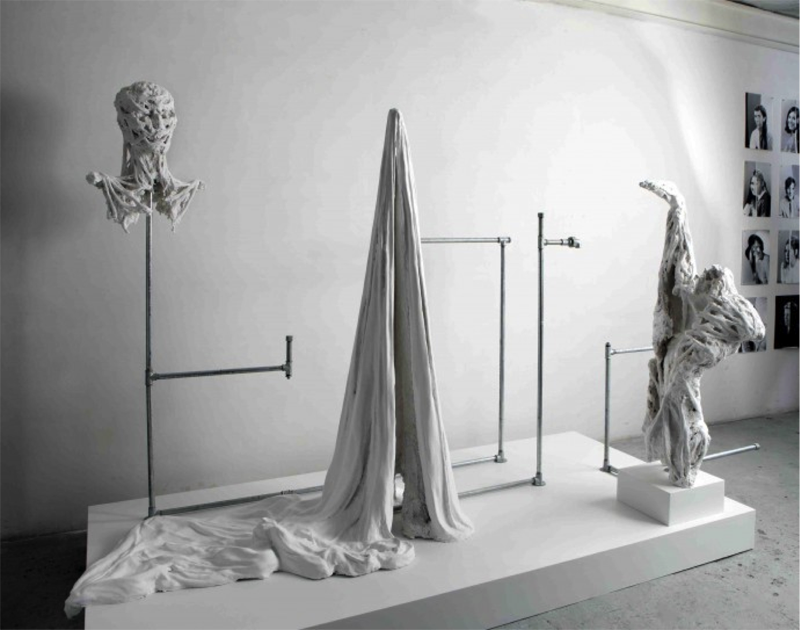 Liquid
installation
synthetic plaster, metal, mirror, cheese cloth, burlap, wood, metal plumbing pipes and animal jaw
240 x 120 x 16 cm
2013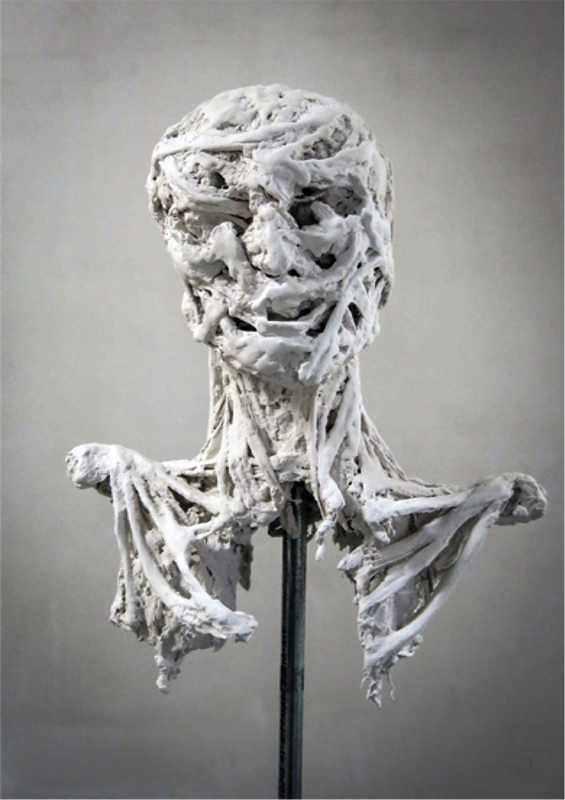 Vain,details of Liquid installation
synthetic plaster, metal, cheesecloth and a jawbone of a mammal
58 x 43 x 25 cm
2013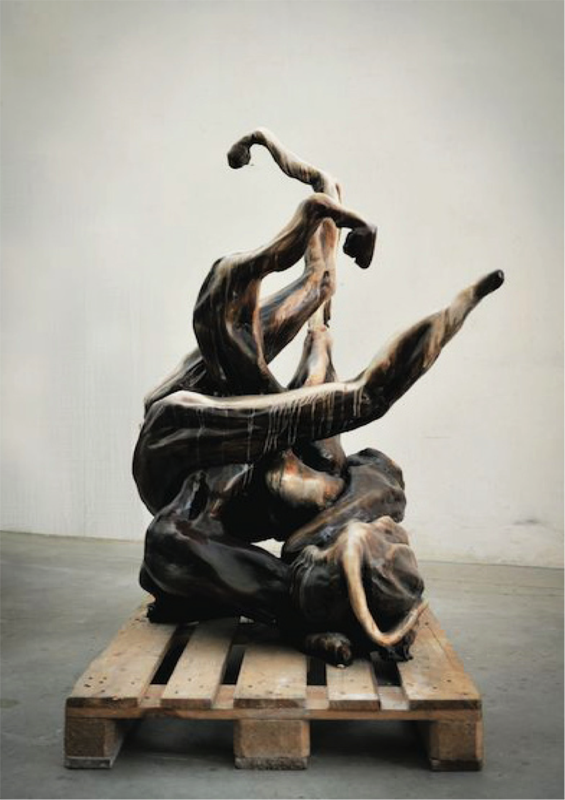 La DébIâcle I
plaster, wood, metal, mesh wire , burlap, fiberglass, paint, varnish
90 x 100 x 150 cm
2012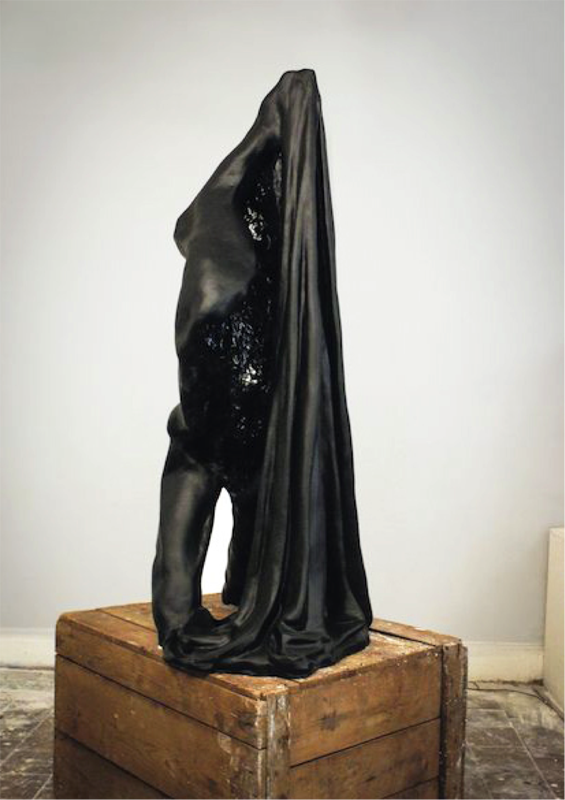 Uncover
plaster, wood, metal, mesh wire , burlap, fiberglass, paint, varnish
138 x 53 x 70 cm
2012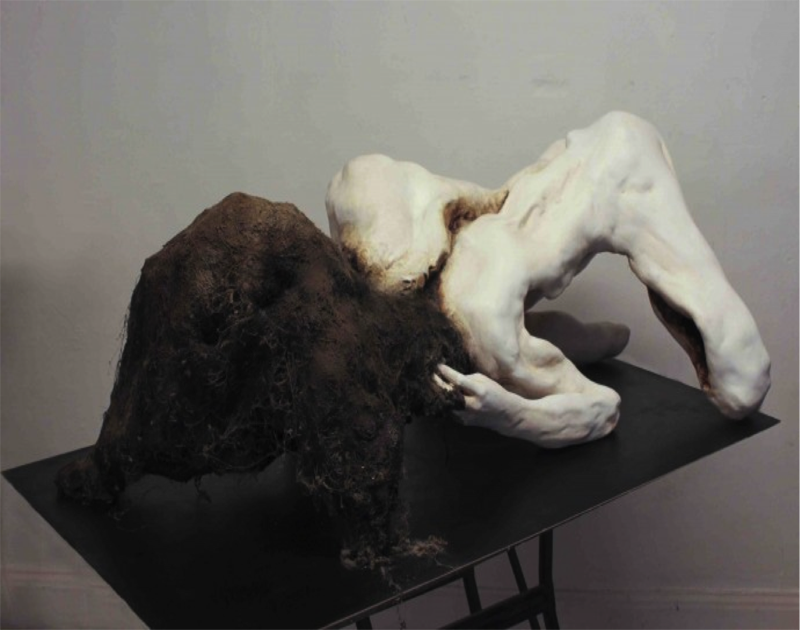 La Descendance De Nyx
plaster, wood, metal, mesh wire , burlap, fiberglass, paint, varnish , hair, earth, and dust
50 x 120 x 65 cm
2011
Le songe
plaster, wood, metal, mesh wire, burlap, fiberglass, paint, varnish, hair, butterflies, dust and earth
63 x 44 x 105 cm
2010