COMMUNITY INVOLVEMENT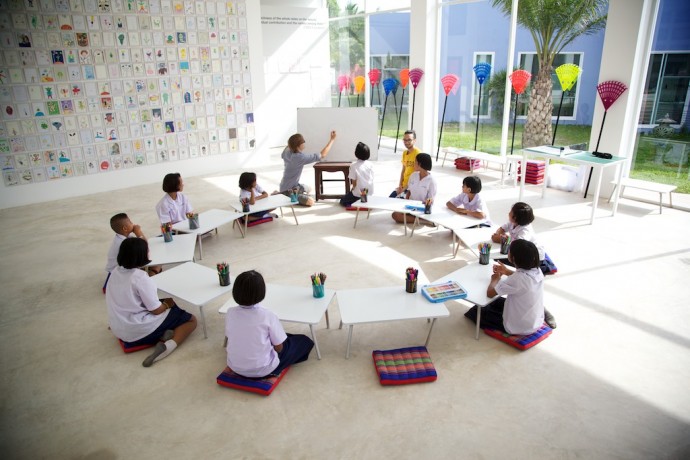 In addition to supporting the artists of today, Thaillywood is also committed to giving back to the artists of tomorrow. To this end, Thaillywood has formed Thaillykids, a community outreach program that connects Thaillywood's artists with kids in the local Thai community through a dynamic art workshop program.
Thaillykids was formed in partnership with Nongjetjai, a local school of 500 kids, and the CRE8 Foundation, a global NGO that connects kids around the world through collaborative art. Through Thaillykids, our artists work closely with local translators and CRE8 representatives to conduct CRE8's proprietary art workshops that convey simple but powerful themes, designed to empower kids to express themselves more freely while gaining a better understanding of other cultures outside their own. Through Thaillykids, our artists are encouraged to develop their own art workshop concepts using elements of their own artistic practice. New and unique skills, talents, and perspectives further enrich the art curriculum and creative experience we seek to provide for the kids.
Our goal in Thaillykids is to empower kids with the pioneering spirit with which Thaillywood was founded and instill our core values of openness, freedom, experimentation, and collaboration within the local community. Thaillykids fosters intercultural dialogue in unique and engaging ways and creates a culturally immersive experience that we consider integral to our artist residency program. We find the experience to be an incredibly formative and fulfilling for both artist and student.
The following video documents the very first Thaillykids drawing workshops held with the kids of Nongjetja and Thaillywood's very first artist resident and CRE8 Creative Director, Ole Ukena. Enjoy!